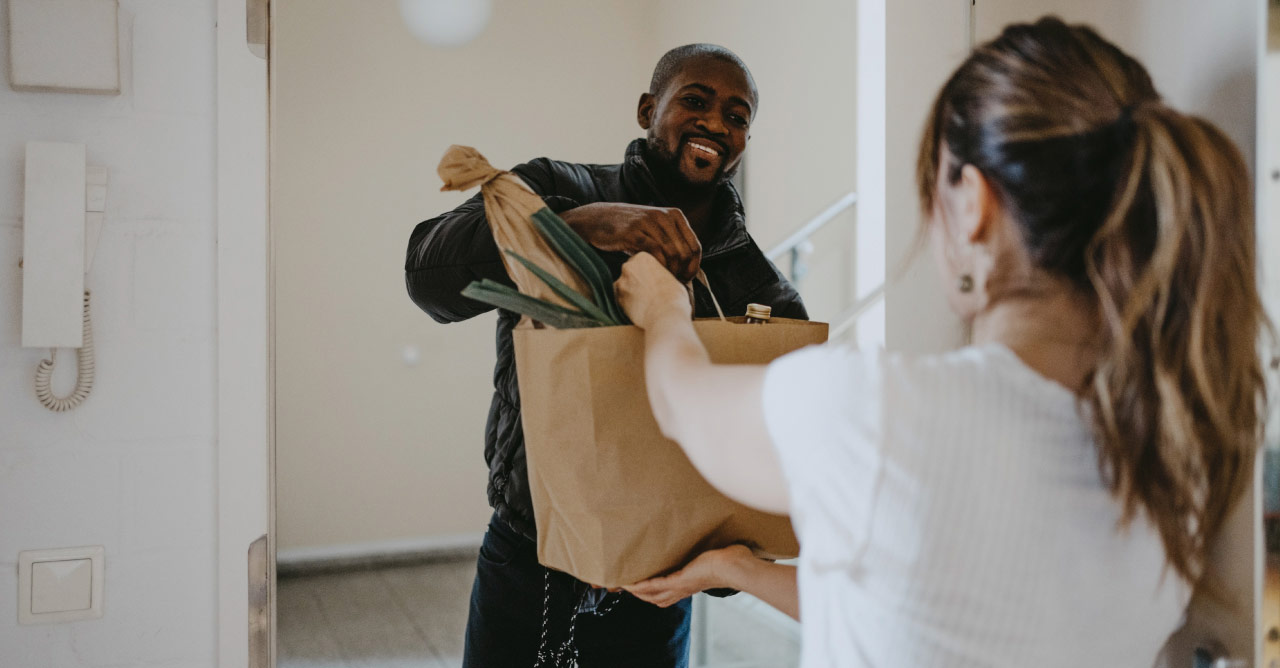 Growing my Business

Seeking New Opportunities
How to be a successful social entrepreneur
When Jasmine Crowe-Houston wanted to fight hunger in America she approached it differently. She founded a company helping business reduce waste by transporting surplus food to non-profit organisations (NGOs) and discovered solutions no one expected.
Top tips for making your vision a reality from Jasmine Crowe-Houston:
Look for business opportunities that relate to your mission. There's often a financial case to be made for helping people in need. You just need to find it.
Social enterprises are not created fully formed, they are evolved over time by a series of smart choices about the best way forwards.
When starting a new venture, put yourself in the mindset to learn as much as you can about your industry.
Learn to accept 'no' from investors and backers. If you stay true to your vision and persevere, you will eventually get a 'yes'.
Adapt your business model based on economic circumstances and be prepared to reverse-engineer solutions to fit your context.
When she moved to Atlanta in 2017, Goodr Founder and CEO, Jasmine Crowe-Houston was shocked by the food poverty she saw there. The poverty she witnessed started her on a mission to create a viable business that could connect food companies up with people in need.
Crowe-Houston started out as a consultant helping celebrities use their star power to support charitable causes. But seeing people going hungry motivated her to establish a network of pop-up kitchens offering free food for the homeless. When a video of one of her kitchens went viral on Facebook, it quickly amassed a large audience. This created the momentum to expand her kitchen network, and set her on a journey to investigate the root causes of hunger in America.
"I fell into this really big rabbit hole around food waste, and just became really upset," says Crowe-Houston.
"I learned how much food goes to waste, not only in this country, but all across the world. And that was really the impetus to get Goodr started."
Crowe-Houston realised that hunger was not a problem of scarcity, but a logistical challenge of putting waste food to good use. Many businesses—like schools, conference centres, and airports—need ways to dispose of surplus food. At the same time, NGOs (non-governmental organisations) are searching for ways to stop people going hungry. Crowe-Houston saw an opportunity to solve both these issues at the same time.
Mapping out her vision
Once Crowe-Houston knew what she wanted to achieve, she set about mapping out how to get there. She began writing notes outlining her goals and thinking through the steps she would need to take, such as hiring drivers to transport food from businesses to non-profits, and building a website. Crowe-Houston didn't have a technical background, so she started searching for coders at hackathons and going to "office hours" open events to meet with engineers.
When Crowe-Houston told friends about the idea behind Goodr, they doubted it was possible.
"People were saying like, this is crazy. No one's ever gonna pay for that, that will never work," she reveals.
"And so I was like, they're probably right! And from there, I started thinking 'Oh, right. Now I need to figure out a way to actually make money from this business, what would this look like?'"
To build her vision, Crowe-Houston looked for guidance and inspiration in other successful businesses. She saw that businesses were paying waste companies to transport food waste to landfill, when at the same time there were people badly in need of that food. She could see that she had an opportunity to provide an essential service to food businesses, while fighting food insecurity.
"And so I think that was it, just learning as much as I can. I went to school on YouTube, I attended webinars, I really put myself out there as someone who was trying to learn," she says.
Getting investors on board
Despite having a solid business plan, Crowe-Houston initially struggled to get buy-in from investors.
"It just didn't resonate with them. And so what I had to really focus on was showing the business opportunity – This is why it makes sense. This is how it's going to make money. This is where the market is starting to trend to," she explains.
"And then I think people started to believe and say, 'Okay, this makes a lot of sense now'—but it took that time. So for me, it was really trying to just be able to see the obvious, businesses were already paying to throw this food away. And now I was gonna come in and become a better solution for them."
Crowe-Houston also turned to incubator programmes to secure funding, which she found particularly appealing for women and founders of colour who are struggling with traditional venture capital (VCs).
"It's a path that I recommend. Early on, I do feel like a lot of times, female founders, especially founders of colour, can sometimes be over mentored and underfunded," she says.
"Even I have white male friends who get tons of investment. When you look at how venture capital is dispersed, white males are at the top. And that's the truth, it is a lot harder for women."
Getting used to a 'no'
Crowe-Houston stayed motivated by reminding herself of the importance of her mission. This gave her the ability to keep her eye on the prize and to persevere, even when repeatedly being told 'no'.
"Not only are you going to hear 'no' in the investment cycle, you're going to hear 'no' in the sales cycle," she advises.
"So you've got to get used to hearing 'no'. With Goodr you would think this should be a no-brainer. But ultimately, we still hear 'no' a lot."
As well as securing funding, CEOs need to keep investors engaged to ensure money keeps coming in, says Crowe-Houston.
"I constantly write investor updates. These are the challenges that we're having. These are some of the wins. Here are some of the assets that we have. And so that is how we've been able to keep it going," she explains.
"That's a big thing for me, I'm always trying to make sure that I'm staying in contact with my investors. And the truth is some investors are more responsive than others. I am making myself available to the investors that want to help."
As well as sending frequent updates, Crowe-Houston arranges regular investor meetings. Investors will want to ask questions in these meetings, but it's also an opportunity for CEOs and founders to ask questions of them. She also advises speaking to other companies who have worked with them, to see if you are a good fit.
"Get reference checks on these investors. Is there a portfolio company that they've made an investment in that you can ask questions of? How are they as an investor? What did you like? What are your concerns? A great question is to ask, how are they helpful? Do they make introductions to other investors, to customers? Do they have a team?"
Finding her team
As well as securing funding, Crowe-Houston also needed to find the right team to make her vision real. She says that an early mistake was hiring from amongst her friends.
"I definitely hired some people and kept them on a little longer than I should have," admits Crowe-Houston.
"And you live and you learn. And I think that's one of the things that a lot of early business owners like myself probably do. And it's just something that we shouldn't do. Spend time to try to find the best."
When hiring talent, it's important to discover what motivates people to work with you, says Crowe-Houston.
"And so I always just ask people, why does this matter to them? Why do you want to do this? This is a risk. You know, my startup may be successful, it may not be successful, why do you want to do this? And that was always unique, to see what they were saying."
Adapting to change
Even with a successful model in place, changing economic circumstances demanded creative solutions. When the pandemic hit, a lot of Goodr's large customers shut their doors. So Crowe-Houston pivoted to providing free meals, partnering with Atlanta Public School to feed 55,000 students who were studying virtually.
"We really reverse-engineered our model. And instead of going from being a business that was using waste-food, we became a business that was preparing food for the purpose of getting it to people in need," she explains.
"And that still exists today. We have pop-up grocery stores where we work with a lot of different brand partners, everyone from Amazon to the NBA, and we go into food deserts and set up these free grocery stores very similar to my pop-up restaurants back in the day, and allow families to come and get a week's worth of groceries for free."
Staying grounded
Building a business is hard and Crowe-Houston says it's important for entrepreneurs to practice self-care, protect their mental health, and look for balance in what they do.
"It's been a really crazy seven-year journey. I've been working on this for a very long time. And it's been filled with ups and downs. I think what I am learning to do now is just take time when I need it and learning to say no. So I think learning to say no is a huge part of balance."
Despite the ups and downs, Crowe-Houston stays grounded by remembering her founder journey.
"It was just about remembering the fact that I was feeding people on the streets for years who had nothing, and understanding that all this food was still going to waste. And this was a really big opportunity to make sure that people had access to food," she explains.
"And I was doing it before I ever started a tech company, right. But I have the ability to look back on those moments and remember where I've come from, and where I'm trying to go. And I think every business owner should have that."
If you're looking for tools, connections and support to help build a successful social enterprise, find out more about how HSBC is supporting female entrepreneurs by visiting https://www.business.hsbc.com.eg/en-gb/campaigns/hsbc-female-entrepreneur-fund