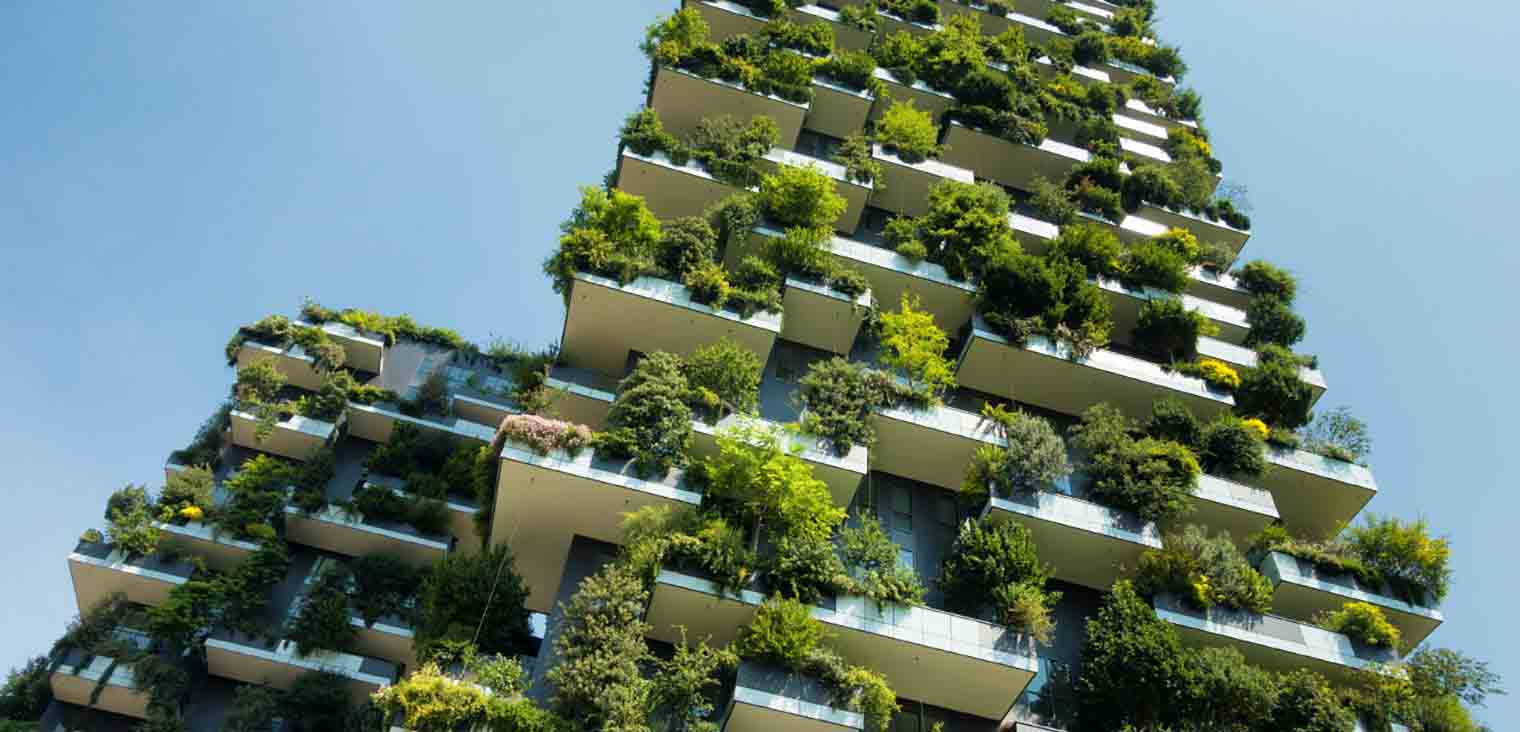 Growing my Business

Seeking New Opportunities
Sustainable buildings create opportunities in green investment
Constructing smart, energy-efficient buildings is crucial to tackling global warming and provides a compelling pitch to investors.
Some 37% of the world's energy-related greenhouse gas emissions come from the operation of buildings and construction, according to the United Nations Environment Programme (UNEP).1
This makes adopting green building standards as a cornerstone of climate action even more important as we aim to create a sustainable future.
In addition, the world's urban population is expected to more than double its current size of around 4.4 billion by 2050, when nearly seven out of 10 people will live in cities, according to the World Bank.2
In MENA, where population has been increasing at around 2 percent per year, the second highest rate in the world after sub-Saharan Africa, the number of people is projected to reach more than 1 billion by 2100, double that of Europe and more than in China, according to an EU-funded study.3
That will result in a massive climate impact as over half of buildings that will stand in 2060 are not yet built. A typical building constructed today will still be in use in 2070, making embracing construction of smart, sustainable and climate change-resilient buildings a key consideration.
Despite a substantial increase in investment at a global level to lower the energy intensity of buildings, the sector's total energy consumption and CO2 emissions increased in 2021 above the pre-pandemic levels.
Buildings' energy demand rose by around 4% to 135 exajoule (EJ) from 2020, the largest increase in the last 10 years, according to the UNEP.4
Further, carbon emissions from building operations have reached an all-time high of around 10 gigatonnes of equivalent carbon dioxide (GtCO2) in 2021, around a 5% rise from the previous year and 2% higher than the prior peak in 2019, the UNEP said.
Investment opportunity
Equally, during the current decade, green buildings represent a significant low-carbon investment opportunity in emerging markets worth around US$ 24.7 trillion by 2030, the International Finance Corporation (IFC) estimates.5
While most of this investment potential, about US$ 17.8 trillion, lies in East Asia Pacific and South Asia – where more than half of the world's urban population will live by 2030 – in the Middle East and North Africa (MENA), it represents a robust US$ 1.1 trillion.
Some 60% of the green market investment opportunity, or US$ 15.7 trillion, is expected to come from residential construction, according to the IFC.
The current size of investments, however, is only a fraction of the opportunity as global investments in green buildings accounted for only US$ 423 billion of the US$ 5 trillion spent on building construction and renovation in 2017, the IFC said.
Building "green" – or the efficient use of water resources, energy, and locally available materials – could represent savings of 0.5% to 12% in additional costs, a 37% reduction in operational costs, and a 31% increase in sale premiums, not to mention faster sale times, according to the IFC.
Green buildings also have up to 23% higher occupancy rates, and up to 8% higher rental income, the IFC's report showed.
Realising sustainable buildings requires capital flow to increase by an average of US$ 270 billion a year over the current decade, the International Energy Agency (IEA) estimated.6
This is a small addition to the US$ 4.9 trillion already invested each year in the sector, and ultimately leads to US$ 4.8 trillion in global savings to 2050, the agency said.
Building green
With sustainability and resilience in focus, green buildings are designed to be more energy-efficient, use less energy to operate, reduce carbon footprint and energy costs, and be better able to withstand the impacts of climate change.
Energy-efficient design involves insulation, efficient cooling or heating systems, as well as use renewable energy sources such as solar photovoltaic (PV) panels and small-scale wind turbines.
Another key component is water conservation, especially in arid areas such as the MENA region. For example, low-flow plumbing fixtures can significantly reduce the amount of water used in a building, while grey water systems recycle water from sinks to use in irrigation or toilet flushing.
Some 80% of energy use over the lifecycle of a building stems from operation, so collecting data and monitoring energy and water use is crucial with the help of transformational technologies such as the Internet of Things (IoT) and integrated workplace management systems (IWMS).
A building management system can monitor energy use in real-time and adjust systems accordingly to reduce energy waste. For example, it might turn off lights in empty rooms or adjust the temperature in a building to minimise heating or cooling demand.
In 2021, global buildings sector investment in energy efficiency increased by around 16% from 2020 to approximately US$ 237 billion, according to the IEA, with a modest 2% rise expected in 2022.
Rethinking materials
There are also opportunities in rethinking construction materials. Raw resource use is predicted to double by 2060 as living standards rise, while at the same time key materials such as concrete and steel account for as much as 10% of global carbon emissions, according to the UNEP.7
In G7 countries alone, material efficiency strategies, including the use of recycled materials for residential buildings, could reduce greenhouse gas emissions by over 80% in 2050, the agency said.
One strategy could be the use of low carbon limestone calcined clay cement (LC3), which can bring as much as a 40% emissions reduction compared to traditional cement. HSBC is funding a research on applicability of LC3 in the UAE, in partnership with the New York University in Abu Dhabi (NYUAD).
By 2025, the global capacity to produce LC3 is expected to reach 90 million tonnes annually, which equates to CO2 savings of at least 20 million tonnes per year compared to normal cement, according to the IEA.
Building upgrades
Besides constructing new smart green buildings, retrofitting old structures to be more environmentally friendly is no less important and can bring sizable opportunities for businesses providing renewable energy, smart system solutions, and data management tools installations.
According to an IFC analysis, building retrofits represent a US$ 1.1 trillion investment opportunity, and could create 25 million new jobs globally by 2030.8
Policies to stimulate green construction could create another US$ 25 trillion in investments in the same time span, the IFC estimates.9
Building codes and green building certification such as LEED are another tool to promote the construction of new sustainable buildings and retrofitting of old ones.
As of September 2022, 40% of countries worldwide had mandatory or voluntary regulations or codes for building energy performance, while there has been a 19% increase in certifications across the world since 2020, according to the UNEP.
Increasing the longevity and sustainability of existing and new building stock are urgent priorities, along with reducing and replacing high-volume, carbon-intensive materials such as concrete, steel, and plastics. Such an approach is not only crucial to combat global warming but can also bring new business opportunities.