Visions of Our City: Cairo
Together we are Cairo's resilient spirit
Resilient in the face of national reform and global headwinds, Cairo continues to foster international connectivity and is on path to evolve its sustainable urbanism to benefit the environment and its citizens.
It is a testament to its adaptability – Cairo, a city more than 4,000 years old, is now the most desirable hub for the region's burgeoning start-up industry and as one of the region's cities to have quickly weathered COVID-19 impacts.
As a global gateway connecting Africa to the Middle East, Europe and wider Asia, Egypt's capital city remains a global trade centre and an attractive destination for investors.
In addition, its energy and ability to constantly tap into the regional zeitgeist has positioned it for success in the areas of culture, economics and social changes.
As much as 30% of Cairo's population is under the age of 15, making it a city with high digital literacy, strong consumer focus and a robust entrepreneurial ecosystem. Cairo is also in the process of creating new policies to unlock the potential of micro and small medium enterprises and start-ups in the 4.0 manufacturing and industry sectors.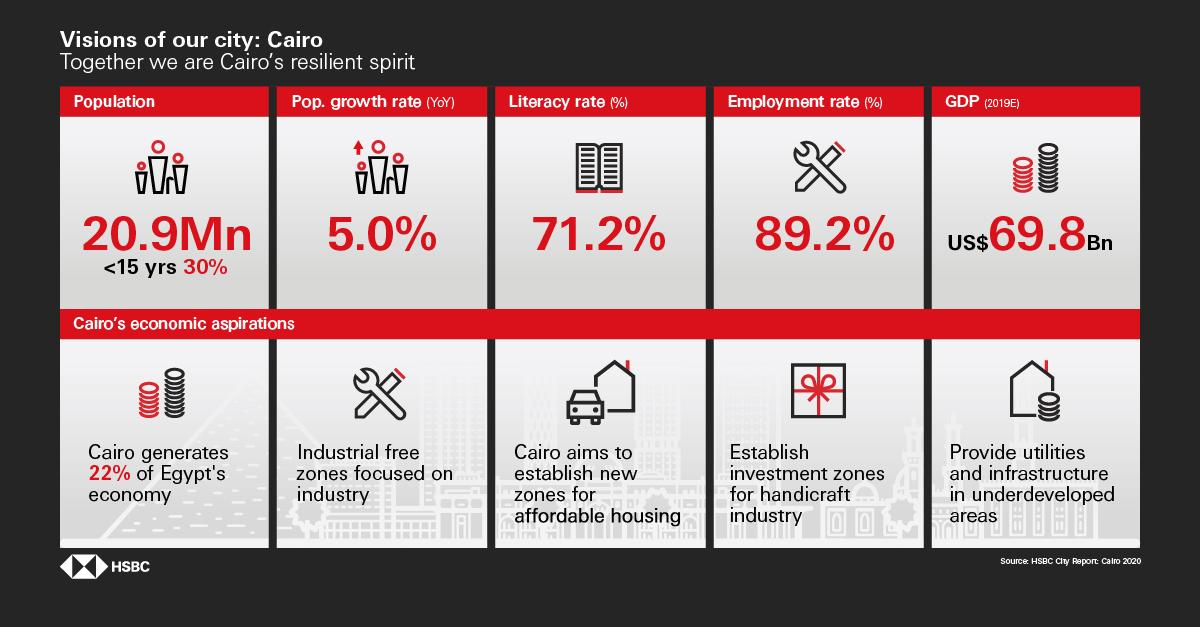 Investor magnet
Indeed, the city is one of the most desirable launch pads in the region for start-ups, with more than 142 venture capital deals last year – the most in the Middle East and North Africa, according to Magnitt.
Investors are also attracted to the metropolis's venture capital space, with 52 entities investing in Egypt-based start-ups in 2019. Remarkably, nearly two-thirds of investors came from outside Egypt, Magnitt noted.
Egypt in general, and Cairo in particular, also has other advantages over its regional counterparts, which allowed it to lure talent and innovation.
The city boasts low-cost applications for new businesses, requires minimal seed money to start a business, offers competitive student and work visa fees, and leverages its universities to attract international students.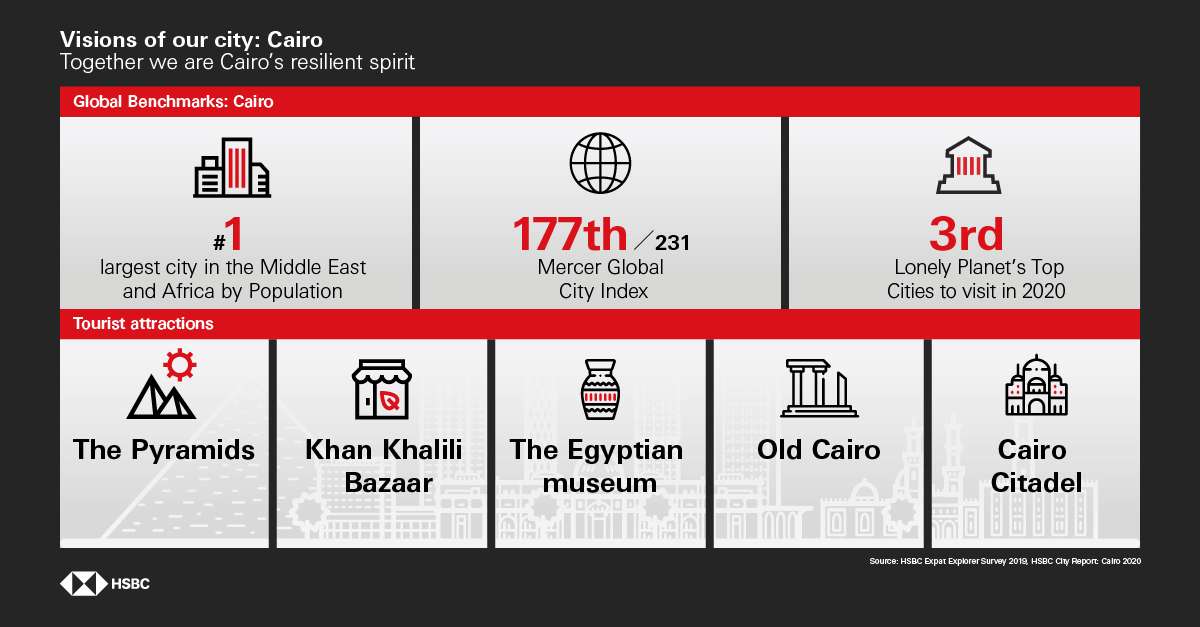 The city's potential to channel the promise of its SMEs into large-scale commercialisation serving African and global markets is also now viewed as an active opportunity for the country.
Egypt is also home to the Suez Canal, which see an average of 12% of the world's trade volumes every year, making it a vital artery of global trade.
In recent years the Canal has seen a major renewal and has expanded to include economic zone and logistics centres attracting Asian, European and other international firms.
But with world trade flows changing rapidly, it is time once again for Cairo to adapt and develop its own industrial strategies and value chains to ensure sustainability and some self-sufficiency on essential goods.
A new capital
While the Pyramids remain a permanent attraction of the city, the metropolis of around 19 million people is in a constant state of change.
Efforts are under way to ensure Cairo remains a regional focal point of culture, tourism and the economy, and a heritage destination in the region.
The government is investing heavily in developing efficient transit systems, pedestrian paths and green spaces to keep the city refreshed and a haven for its residents.
Underpinning these efforts are investments to develop a technologically connected city to ensure it can compete with other global metropolises.
To address Cairo's continuous population growth, inefficient density and overcrowding, traffic congestion, environmental side effects and informality, and to fulfil the vision of a "Global, Green, and Connected City", the Greater Cairo Strategic Development Plan aims to redistribute the overall population across the metropolitan area.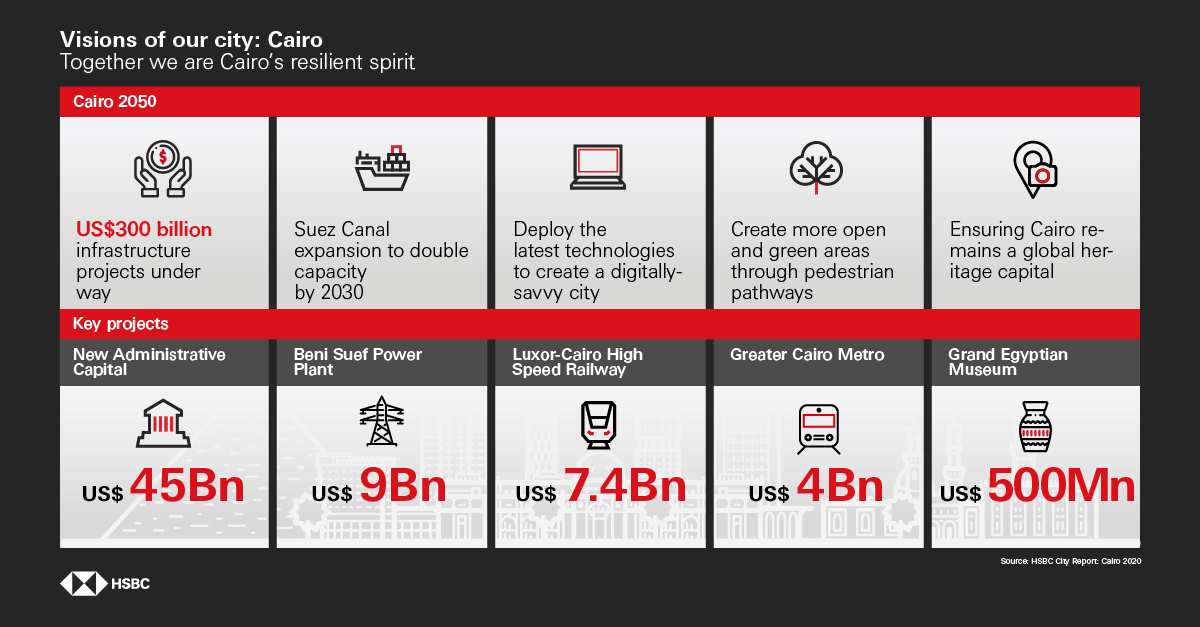 The biggest manifestation of that plan is the New Cairo City, a fresh administrative capital on the south-eastern edge of the Cairo Governorate.
The 30,000-hectare city is expected to cost more than US$ 58 billion and will be home to various ministries, residential neighbourhoods, mixed-use buildings and hotel.
Separately, a US$4.6 billion two-line monorail system is also under way. The first line will stretch from East Cairo to the New Administrative Capital and span 54 kilometres, while the second will span 42 km and link the 6th October City to Giza.
The core city also plans to further improve national connectivity with a US$ 14 billion high-speed rail project linking four of its main cities: Cairo, Alexandria, Luxor and Hurghada. To be completed by 2025, this project aims to boost tourism in the quartet of cities and become a major driver of economic and business growth.
Investments in various cities will also alleviate pressure off Cairo, which, like most densely populated cities, has been impacted by the pandemic sweeping across the world.
Due to travel restrictions, lockdown measures and working from home, there have been steep declines in the movement within cities. It has also brought to the fore issues of open spaces, reducing pollutions and creating well-thought-out urban spaces that provide comfort to their citizens.
Cairo is responding to the challenge, with a resilient spirit, optimism – and adapting once more.
The Artist - Amr Diwan
In the early 2000's, Amr started to develop his artistic talents. This Egyptian Graffiti artist explored the different pillars of the hip-hop culture, increasing his knowledge every step of the way and started to develop his artistic talents within each art piece. This led to the successful opening of Diwan Studios and the start to many imaginative and original graffiti pieces.
Amr has been a part of a wide range of projects exploring the fields of socio-culture, interior spaces, festivals and event activation. His designs can be spotted all over Egypt, different cities in the Middle East and some parts of Europe.